Greeting from General Director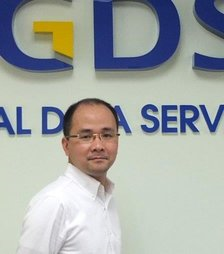 As General Director of Global Data Service JSC, I am pleased to welcome you to our fully revamped site.
Our company has developed greatly in the course of the past 6 years as a result of the long-time co-operation between NTT Communication Corp. and Vietnam Post and Telecommunication Group (VNPT). From establishment, GDS goals have been defined with an emphasis on delivering flexible, scalable, and customer-focused data center and interconnection services that facilitate client's growth as we know that the needs of our customers continue to evolve with innovation in applications and changing end-user demand, creating a need for more than just colocation.
The advent of cloud computing has radically altered everything from basic server architecture and storage technologies to fundamental IT business models and outsourcing decisions. With this in mind, GDS is redoubling its efforts to provide industry–leading enterprise business amenities and economies of scale that drive down costs and dramatically improve numerous business and operational efficiencies.
Therefore, despite of young company in Vietnam but we have achieved significant milestones thanks to tremendous advocacy supports from customers. Furthermore, GDS always adopts innovative, cutting-edge management methods as well as equips the latest, state of-the-art IT facilities in a concerted effort to prepare for the future.
In this era of globalization and online communications, GDS aims to become part of the local and global networks via IT and computer systems, including the Internet. The present site constitutes one of the main tools to achieve this aim: through the site, you can find a wealth of information on our data center specification, service categories, partnership program and available download forms.
Enjoy our website, and I hope you find it helpful and informative.
Above all, we look forward to welcoming you at our Thang Long Data Center.
Nguyen Trong Nghia
General Director
A modular education system based on academic credits is in place which combines both
go here
fundamental and professional training