The enterprises discussed the solution for selling ICT service effectively
It is the goal of the workshop which was organized by Vietnam Telecom National (VTN) - a member units affiliated Telecommunications Corporation of Vietnam and The partner, Global Data Services JSC (GDS) on Friday morning, 8th June 2012 in Hanoi.
The workshop provided the knowledge and the experience on approaching & selling IT-ICT services for VTN's leaders & staffs with business customers. Sales process currently does not stop at selling the available services of VTN or GDS.The enterprises themselves have to discover , create the needs of customer & convince them to use the added-value services. This is "the channel" which help the supplier for penetrating & understanding deeper the customer's inquiries.
In order to do this, the enterprises need to distinguish the difference between the business customers and individual customers; the tendency of using ICT services; the difficulties and the necessary factors in selling business customers as well as the important objectives in sales business solution strategy.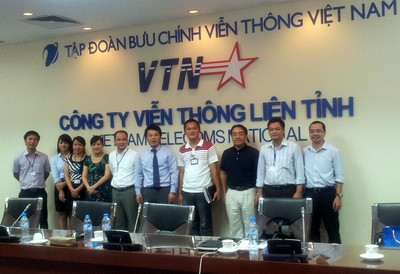 At the conference, VTN & GDS leaders pledged to continuously hold the similar workshop for both sides updating information and sales experience.
The workshop was conducted via video-conference between the points : Hanoi, Ho Chi Minh City and Da Nang throughout VTN's NGN net platform which not only helped the points to monitor the entire contents of the workshop but also all documents shared simultaneously by points which helped in exchanging information effectively,achieved dialogue as the direct conference. Only in the morning, the entire sales team of VTN over the country participated in workshops with the highest efficiency, the lowest cost.
After this workshop, VTN & GDS leaders had the high agreement about the content & pledged to continuously hold the similar workshop for both sides easily updating information & sharing sales experiences . It was known that VTN was the supplier of telecommunications services to enterprises and now its services were indispensable factors in the total IT services solution package which GDS proposed for their customers